What is co-production?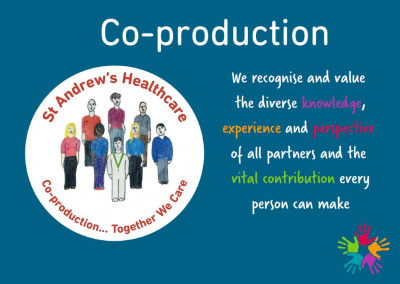 Co-production is an important part of how we care for our patients and service users.
It is about recognising and using everyone's diverse knowledge, experience and perspective to drive recovery - whether they be a patient, service user, staff member, carer, a volunteer or another individual.
Co-production means working together as equals and making best use of our strengths to find ways of doing things that benefit everyone.
We recognise that every person may have something different to give; we listen to all of our people, because we know everyone has an important experience to share.
Our Co-production Network
At St Andrew's, co-production is more than just a buzzword. Our Co-production Network (established in January 2022) consists of service users, staff and peer support workers. The Network meet regularly to share ideas, discuss projects and any blockages that are stopping people from getting involved.
To contact the Co-production Network, please email: co-production@stah.org