World Mental Health Day: St Andrew's launches #LetsTalkAbout campaign aimed at breaking the stigma attached Borderline Personality Disorder
To mark World Mental Health day, St Andrew's is proud to share the second video in the charity's #LetsTalkAbout campaign which aims to shine a light on some of the most misunderstood and complex of mental health conditions.
The short film, #LetsTalkAbout 'Borderline Personality Disorder', features St Andrew's Consultant Psychologist, Dr Emily Fox. She explains what BPD is and why it is often misunderstood, and shares simple things people can do to support people who are struggling with their emotions.
The campaign is urging people this World Mental Health Day to take their conversations beyond depression and anxiety and talk more frankly and openly about complex mental health problems.
Dr Fox explained:
"Borderline Personality Disorder is a condition that is marked by emotional instability, challenges with relationships, challenges in sense of self, and challenges in tolerating stress.
"Personality disorders can be exceptionally problematic; people may want to hurt themselves as they're in so much pain, but on the other hand they experience the best of things with incredible intensity - such as happiness, joy and love. The good news is that the condition is treatable, with the right therapy and support."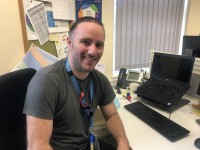 Kyle Daniel has BPD and works for St Andrew's as a peer support worker, meaning he uses his experiences of tackling his own mental health issues to help those in hospital.
The 33-year-old told the Northampton Chronicle that St Andrew's is at the forefront of a new way of treating the condition, which in turn reduces prejudices.
"Most of the stigmas I've faced have come from within the clinical community because without that understanding of why things happen, then you become the patient that's difficult to work with," he said.
"But slowly people are understanding it more and the stigmas are lessening - what's exciting is St Andrew's is making real inroads in that and I've seen far less of that here than anywhere else."
A recent survey carried out by St Andrew's found while there was a good understanding among the public around depression, when it came to Borderline Personality Disorder, only a quarter were able to correctly identify three or four of the symptoms listed, and 38% incorrectly stated that BPD involved having a split personality.
Dr Fox has some advice for people supporting a friend or family member who has BPD:
1) Listen: Be in the room, hear their experiences. Listen 100% and give them all your attention
2) Be genuine: Be a friend, be supportive.
3) Put yourself in their shoes: See it from their perspective, understand the experiences that they have had has led them to the place they are now. Understand how handling these nightmarish emotions has been a struggle for them.
The #LetsTalkAbout Borderline Personality Disorder film is the second in the series by St Andrew's Healthcare, with other films focussing on schizophrenia, PTSD and Dementia.
Follow the campaign across social and share our content on by using #LetsTalkAbout, and together we can break the stigma.